The Other Path
Director & Dramaturge: Laurie Steven
Dramaturge: Janet Irwin
Odyssey has brought together 5 extraordinary writers from across Canada with national and international reputations in the fields of theatre, fantasy and speculative fiction, and folklore, to create a series of fantasy audio dramas.
Each of the writers has drawn inspiration from a tale from around the world. They reimagined these stories for adult and young adult audiences, setting them in contemporary realistic or alternate reality settings. Haunted plays about mermaids, witches, fairies and ogres, probe social, political, moral and psychological depths. The plays explore a unique theatrical style mixing aural storytelling with dramatic scenes.
Each play received two script workshops in 2021 with 15 actors, allowing for an interaction with the writers and a chance to experiment with sound and music.
For more info click here.

Heart's Home
Playwright: Jo Walton
A story about home and belonging, this eerie fantasy is inspired by a legendary story from the Third Branch of the Mabinogion, a work of mediaeval Welsh literature.
Jo Walton is the author of fifteen science fiction and fantasy novels, most recently Or What You Will (2020). She has also published three collections of poetry, two of essays, and one of short stories. She has won all the major prizes in her genre, including the Hugo, Nebula and World Fantasy Awards. Her novel Among Others is one of only seven novels to have ever been nominated for all three. She comes from Wales but has made her home in Montreal since 2002.

Jo Walton


Double Trouble
Playwright: Marty Chan
A tale about the desperation of poverty, Chan's dark and suspenseful comedy is inspired by the Chinese folktale "Two of Everything."
Marty Chan writes books for kids, plays for adults and tweets for fun. He's best known for his hit plays, Mom, Dad, I'm Living with a White Girl, The Bone House, and The Forbidden Phoenix, which have been produced internationally, including Off-Broadway and at the Edinburgh Fringe Festival. For kids, he's written 16 books, including this latest thriller: Haunted Hospital. From 1994 to 2000, his weekly series The Dim Sum Diaries aired on CBC Radio. He works and lives in Edmonton with his wife Michelle and their cat Buddy.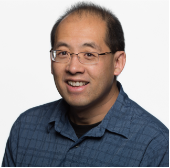 Marty Chan


The Witch's Circle
Playwright: Emily Pohl-Weary
This modern day Gothic adventure is inspired by the Slavic folktales about the extraordinary Baba Yaga.
Emily Pohl-Weary is an award-winning novelist, biographer, poet, comic-book writer, editor of magazines and English textbooks, and an assistant professor at the UBC School of Creative Writing, teaching writing for young adults and speculative fiction. Among other works, her poetry collection, Ghost Sick, explores tragedy and resilience in Toronto's Parkdale neighbourhood where she grew up. For two decades, Emily worked in Arts Education. In 2008, Emily founded a free writing group for inner-city youth, and leads a weekly writing workshop for residents of Sagatay, a long-term transitional home for First Nations, Metis, and Inuit men in Toronto.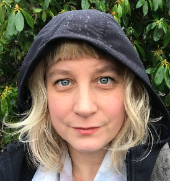 Emily Pohl-Weary

The Belt and the Necklace
Playwright: C.S. MacCath
This haunting and fantastical dramedy adapted from a recently discovered 19th century Bavarian folktale, explores fashion's fixation on beauty and our exploitation of nature.
Ceallaigh S. MacCath-Moran (C.S. MacCath) is a PhD candidate in Folklore at Memorial University of Newfoundland, and a writer of fiction, non-fiction, and poetry. Her long-running Folklore & Fiction newsletter, now a podcast and written dispatch, integrates these passions with a focus on folklore scholarship targeted at storytellers. Ceallaigh's research interests include animal rights activism as a public performance of ethical belief, and she brings a deep appreciation of folk narrative, ecology, and Neo-Pagan spirituality to her writing. Work from her two fiction and poetry collections has been shortlisted for the Washington Science Fiction Association Small Press Award, and nominated for the Pushcart Prize and Rhysling Award. She lives in Atlantic Canada.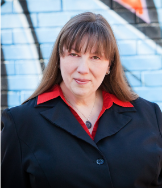 C.S. MacCath

The Feathered Ogre
Playwright: Daniel Peretti
A contemporary adaptation of Calvino's Italian folktale, The Feathered Ogre explores the tension between tradition and modernity and how to heal what divides us.
Daniel Peretti was born in Ontario, grew up in Michigan, and lives in St. John's, Newfoundland and Labrador, where he is an Assistant Professor of Folklore at Memorial University. His writing includes essays, short stories, the feature length film Own Worst Enemy, and an academic study titled Superman in Myth and Folklore.

Daniel Peretti

Commedia!
Playwright and Director: Laurie Steven in collaboration with the cast
Dramaturge: Janet Irwin
This one-of-a-kind series of five short plays introduces the characters, satire, explosive writing, improvisational embellishments, physical style, and techniques of Commedia dell'Arte. The plays are drawn from social satires, romantic comedies, comic fantasies and tragicomedies from classic and original Commedia dell'Arte inspired plays produced by Odyssey Theatre over 35 years. Audiences will discover the rich textures of the characters and how they are manipulated to create a range of society portraits, as well as the verbal wit, style of satire, and the physical comedy of the art form.
Commedia's masterpieces combine verbal wit and physical comedy skill in equal measure and were composed by writers working in collaboration with exceptional performers. Our series begins with this assessment and proves it through a rich array of performances illuminated by commentary and discussion. By focusing on the scripts, the verbal wit, and the nature of the satire, the series will make a unique contribution to the understanding of Commedia.
The scripts were workshopped in 2020 over 10 days with a stellar cast of Odyssey performers including William Beddoe, Jesse Buck, Anurag Choudhury, Lise Cormier, Maryse Fernandes, Chandel Gambles, Soo Garay, Andy Massingham, Bruce Spinney, and Stavros Sakiadi.
The Berlin Blues
Playwright: Drew Hayden Taylor
Dramaturge & Director: Laurie Steven
Award-winning Indigenous playwright Drew Hayden Taylor is collaborating with Artistic Director Laurie Steven to develop a Commedia adaptation of his play The Berlin Blues. Taylor's play is a scathingly funny satire about a First Nations community who are approached by a German couple wanting to open a "Native" Theme Park.
Drew Hayden Taylor is an award-winning playwright, author, columnist, filmmaker, and former Artistic Director of Canada's premiere Indigenous theatre company, Native Earth Performing Arts. Originally from Curve Lake First Nation, he has spent the last 25 years working to educate and inform the world about issues that reflect, celebrate, and interfere in the lives of Canada's First Nations.
Odyssey held a four-day workshop of the play, which included a staged reading, in December 2017. Directed by Laurie Steven, the cast of six included: Herbie Barnes, Samantha Brown, Dillan Chiblow, Mark Huisman, Cheri Maracle, and Alix Sideris.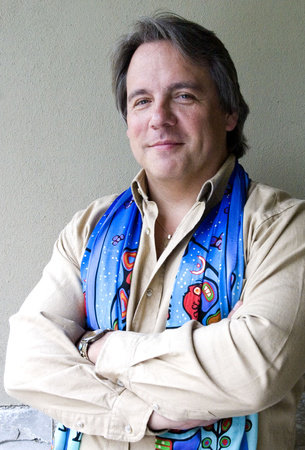 Drew Hayden Taylor

The Blue Demon
Playwright: Laurie Steven
In collaboration with: Ravibandhu Vidyapathy and Prasanna Rupathillake
The Blue Demon is a mythic adventure by Artistic Director Laurie Steven that tells the story of a princess transformed into a warrior by the Demon King in order to bring peace to a kingdom in strife. Inspired by the mythology of ancient Sri Lanka, the play explores uses and misuses of power, and the relationship between love and justice. Ms. Steven is writing the play in a dance-theatre form to allow for the integration of Commedia dell'Arte and Sri Lankan masked dance-theatre – Kolam.
Collaborators:
Ravibandu Vidyapathy: an internationally renowned dance-theatre choreographer, musician, dancer, drummer, teacher and Artistic Director of the Sri Lankan State Dance Ensemble. His adventurous and often political work in the field of Sri Lankan performance has included dance-theatre interpretations of such plays as Macbeth, Romeo and Juliet, Oedipus Rex, and The Last Days of Judas Iscariot. His provocative productions have toured the world from Europe, to Asia, North America and Australia. His work has been presented at the Kennedy Centre in Washington, the Kauffman Concert Hall in New York, and at both the Hong Kong and Singapore International Arts Festivals, amongst others.
Prasanna Rupathillake: a master drummer and dancer with the Sri Lankan State Dance Ensemble. He started his own dance group, Prasanna Roo Rangayathanya, in 2000 and has served as a performing artist for the International Peace Foundation. He has performed regularly over the past 25 years as a drummer and dancer, and has toured to many countries, including France, Germany, Japan, The United Kingdom, Singapore, China, India, Pakistan, Malaysia, Belgium, Hong Kong, The Middle East, Switzerland, Norway, Taiwan, The United States and Canada.
L to R: Ravibandhu Vidyapathy, Prasanna Rupathillake
The Imaginary Invalid
Playwright: Molière
Translator: David Whiteley
Dramaturge: Laurie Steven
David Whiteley's translation-adaptation of Molière's comedy The Imaginary Invalid taps into our fascination with health products, from beauty creams to steroids to vitamin supplements. The story features the machinations of a hypochondriac father obsessed with his own bodily functions, and chronicles the treatment of his imagined ailments and the almost devastating impact he has on his family.
David Whiteley is an Ottawa-based playwright, actor, director, and Co-Artistic Director of Plosive Productions. He has a significant background in translation and adaptation of French classics (most recently Molière's School for Wives at The Gladstone). Molière, a 17th Century French playwright, actor and poet best known for his comedies and farces, is widely considered one of the greatest writers in universal literature.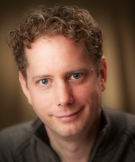 David Whiteley
Senatus Mortem
Scenario: Attila Clemann
Dramaturge: Laurie Steven
A new satire conceived by Atilla Clemann, Senatus Mortem devises contemporary versions of classic Commedia characters to explore a hot topic in Canadian politics: the abolition of the Senate. Set in Ottawa, in the red chamber of Parliament Hill, it sees an assembly of Senators concoct a desperate scheme to ensure their survival.
Ottawa native Attila Clemann is a writer, actor, and exceptional physical theatre artist who trained at the prestigious Lecoq School in Paris. He has performed in three Odyssey productions: The Financier, Arms and the Man, and The Illusion, and directed 2017's The Amorous Servant.
Attila is creating both the scenario and contemporary treatment of Commedia. He will also lead creation workshops where the full play will be devised collaboratively with actors.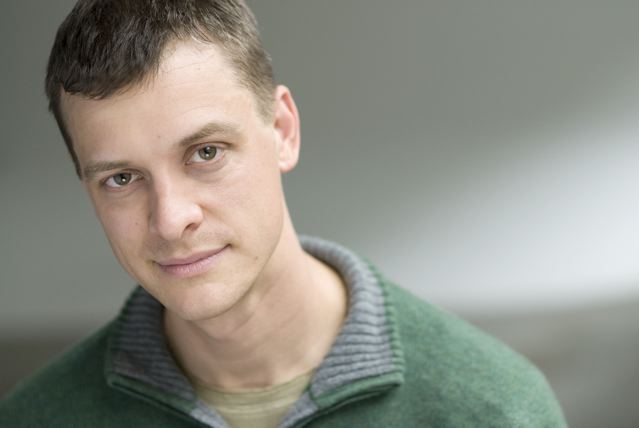 Attila Clemann
To read more about Odyssey Theatre's New Play Creation program, click here.