Join us in Strathcona Park for our 34th season of Theatre Under the Stars! From July 25-August 25, we will be presenting a vibrant new translation and adaptation of The Bonds of Interest by Nobel Prize laureate Jacinto Benavente. The Bonds of Interest is a brilliant comic intrigue about two con artists who swindle an entire town of crooked merchants, powerful elites and grasping pretenders, all of whom will stop at nothing to get rich quick. This clever satire takes aim at the corruption and insatiable greed flourishing in a modern money-driven world.
Tickets are available online and by phone 613-232-8407. Don't miss our 25% off Early Bird Special, available until July 12. Tickets are also available at the Box Office in the Park, 30 minutes before each performance.
Ticket Prices
Adults: $27 advance/$29 at the park
Seniors/Students: $22 advance/$24 at the park
Children (under 12): $11 advance/$12 at the park
416 Play Pass: $40.00
Special Group Rate: 10% off tickets (Groups of 10 people or more)
Please contact the office at 613-232-8407 or boxoffice@odysseytheatre.ca to purchase tickets for a group.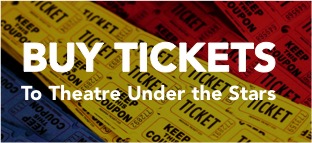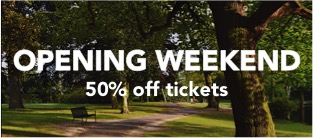 416 Play Pass: Summer Theatre in the Fast Lane
Odyssey Theatre and St. Lawrence Shakespeare Festival are teaming up to offer theatregoers two evenings of entertaining open-air theatre between July and August at a reduced rate. The 416 Play Pass allows audience members to enjoy Odyssey Theatre's The Bonds of Interest between July 25-August 25, and one of St. Lawrence Shakespeare Festival's summer productions, Cyrano de Bergerac or A Winter's Tale, between July 13-August 17.
Holders of the 416 Play Pass will get access to the best that Odyssey Theatre and the St. Lawrence Shakespeare Festival have to offer in July and August. By purchasing a summer theatre pass, play pass holders will save 33% off regular ticket prices. Play passes do not apply to a specific date and can be used at any point throughout the summer run. Holders of the play pass are asked to present their ticket at the door on the night of the St. Lawrence Shakespeare Festival performance, and contact Odyssey Theatre at 613-232-8407 or boxoffice@odysseytheatre.ca to reserve seating for The Bonds of Interest.
Purchase your 416 Play Pass here: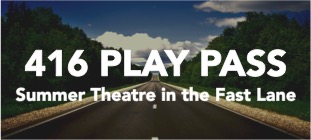 Pay-What-You-Can Sunday Matinees
Every Sunday, Odyssey offers PWYC pricing for the 2pm matinee of The Bonds of Interest. Tickets available at the park box office only.
Method of Payment
Odyssey Theatre accepts cash, cheque, Visa, MasterCard, American Express and Interac.
Rain Policy
Unless it is raining at the beginning of a show, the performance will go on. If a performance has to be cancelled, a rain ticket will be issued at the venue. Rain tickets can be used at any point during the run, but you will need to call in advance to make a reservation with your rain ticket. If the weather is questionable and you would like to change your reservation in advance, you may do so by phone before 5pm on the day of your reservation.
We do not offer refunds.
Seating
Odyssey's seating consists of wooden bleachers. Seat cushion rentals are available for $2. You are also welcome to bring your own cushion or lawn chair.
Parking
Parking is available in the parking lot at Somerset and Range Road, as well as street parking along Range Road and throughout Sandy Hill.
Gift Certificates
Give the gift of theatre! Gift certificates may be purchased in any denomination and can be used for any performance throughout the run, subject to availability.. Call the Box Office at 613-232-8407 or e-mail boxoffice@odysseytheatre.ca to purchase your gift certificate.