Playwright: Emily Pohl-Weary
Director & Dramaturge: Laurie Steven
Dramaturge: Janet Irwin
Part of The Other Path
The Witch's Circle follows Lisa, an orphaned teen, as she navigates the scary reality of life in a group home. Desperate to be rid of her abuser, Lisa's pursuit for freedom leads her to the ferocious Baby Yaga, a witch with an unfortunate taste for human flesh. Unknowingly, Baby Yaga helps Lisa find the power she needs to set herself free. Pohl-Weary's modern day Gothic adventure is inspired by the Slavic folktales about the extraordinary Baba Yaga.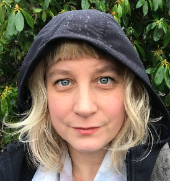 Emily Pohl-Weary is an award-winning Canadian novelist, biographer, poet, creative writing professor, magazine editor and (now!) audio drama scriptwriter.
Her latest poetry collection, Ghost Sick, explores tragedy and resilience in Toronto's Parkdale neighbourhood, where she grew up, and won the 2016 Fred Cogswell Award for Excellence in Poetry. Previous books include the young-adult novel, Not Your Ordinary Wolf Girl (about a female werewolf), Strange Times at Western High (a middle-grade mystery), Girls Who Bite Back (a superhero anthology), A Girl Like Sugar (a ghost love story), Iron-on Constellations (poetry), and Better to Have Loved: The Life of Judith Merril (a Hugo Award-winning memoir co-authored with her grandmother, Merril).
Emily is currently an assistant professor at the University of British Columbia's School of Creative Writing, having previously taught at Dalhousie University, University of the Fraser Valley, and the University of Toronto. She specializes in teaching writing for young adults and speculative fiction.
For two decades, Emily worked in Arts Education. She founded the Toronto Street Writers, a free writing group for inner-city youth. She also led a weekly writing workshop for residents of Sagatay, a long-term transition home for First Nations, Metis and Inuit men.
Pohl-Weary founded Young Adulting, an online magazine that reviews books for young readers. She's also the former publisher and editor of Kiss Machine magazine, a former editor of Broken Pencil magazine, and worked as an acquisitions editor for a line of high school English textbooks.