Odyssey Theatre is Ottawa's award-winning professional theatre dedicated to masked performance. Join us every summer for our Theatre Under the Stars on the banks of Rideau River in Ottawa's historic Strathcona Park. Renowned for our imaginative productions featuring masks, Italian Commedia dell'Arte, and stylized choreography, Odyssey is a theatrical experience like no other!
Stay tuned for details of our 35th anniversary season in 2020! Meanwhile, see some of our past award-winning productions here!
---
Uncovering Theatrical Roots to Celebrate the Land
Our Storytelling & Mask Workshop on January 10-12, 2020 was a success!
Laurie Steven and Curtis Peeteetuce were blown away by the creativity, honesty, and courage of all the participants. Everyone took such different directions with the masks and enormous steps forward in their artistic practices.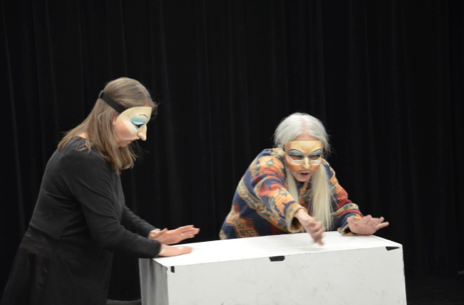 For more information about this dynamic workshop please click here.
---
CALL FOR VOLUNTEERS!
Do you enjoy the theater? Looking for a new way to give back to your community? Want to get involved behind the scenes and meet new people? Odyssey is looking for dedicated and enthusiastic volunteers who have a passion for the arts and are interested in events planning and/or marketing!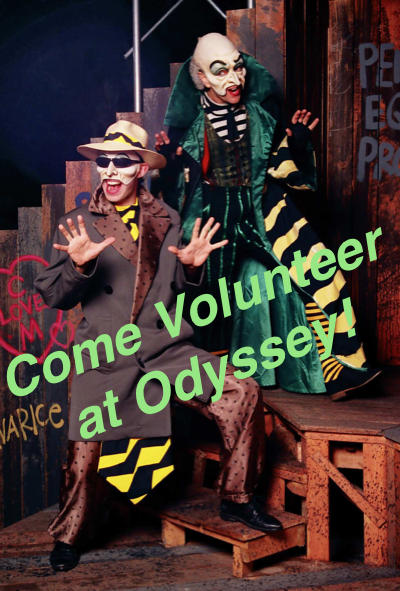 For more on all our opportunities click here!
---
THE BONDS OF INTEREST WAS A HIT WITH AUDIENCES AND CRITICS ALIKE!
Thanks to our artists, funders, sponsors, patrons, volunteers, and audiences for making our 34th season such a success! Our new translation of The Bonds of Interest, Jacinto Benavente's modern Commedia satire about greed, was a hit with audiences and critics alike. Apt613 called it "A must see play." Check out more of the buzz about Bonds and see our video trailer here.
---
MEXICAN HOLIDAY RAFFLE – WE HAVE A WINNER!!!!
Congratulations to Sue Maxwell with her winning ticket #102!
Thank you to all those who entered our Mexican Vacation Raffle, helping us raise almost $6,000!
We would also like to give special thanks to Stephen Conger for his generous donation of this holiday package and making his beautiful award-winning villa available.
---
Keep Odyssey Growing!

---
Odyssey Theatre gratefully acknowledges the ongoing support of our major funding partners: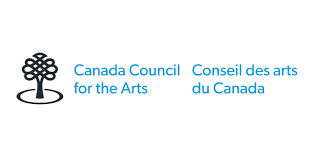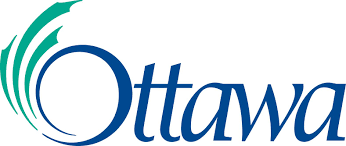 THANK YOU TO OUR 2019 SPONSORS AND FUNDERS!