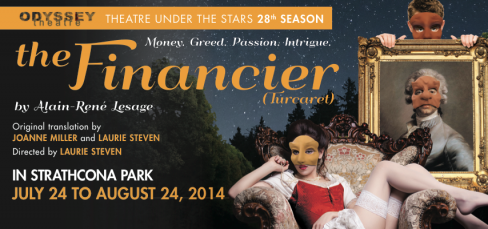 28th season of Theatre Under the Stars:
July 24 to August 24, 2014
Tuesday through Sunday at 8pm.
Pay-What-You-Can Saturday and Sunday at 3pm.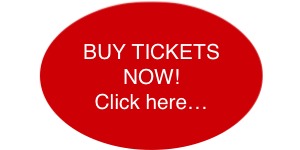 Join us for a comedic fiasco of aristocratic rouges and scheming servants in an enchanted outdoor setting!
"The Financier is the best thing I have ever seen performed by Odyssey in its 28 years as Ottawa's prime outdoor theatre troupe." Paul Gessell, Ottawa Magazine
"Laurie Steven has done a wonderful job of choreographing the production's stylized movement." Patrick Langston, Ottawa Citizen
"Pretty well everything about The Financier is impeccable." Allan Mackey, On Stage Ottawa
"This is ridiculous, indulgent fun and social satire at its brightest and zaniest."  Kevin Reid, The Visitourium
"The masks and choreography are beautifully done." Jennifer Cavanagh, Sandy Hill Seen
"This is still a lovely performance and offers an eye-catching evening of entertainment." Alvina Ruprecht, Capital Critics Circle
"All of the actors are incredibly talented moving around with ease and agility." Jennifer Hartley, Ottawa life Magazine
SNEAK PEAK VIDEO of The Financier (Turcaret)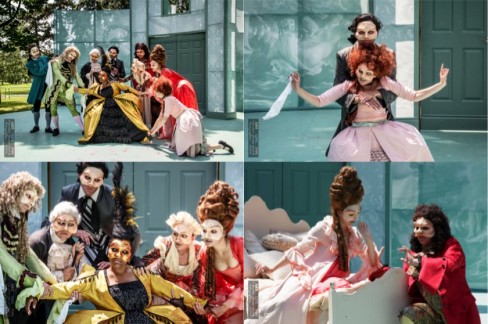 Images by Glen Hartle of this year's production.
______________________________________________________
It's back: PICNIC AND THEATRE package!
Wednesday to Saturday, until August 23rd.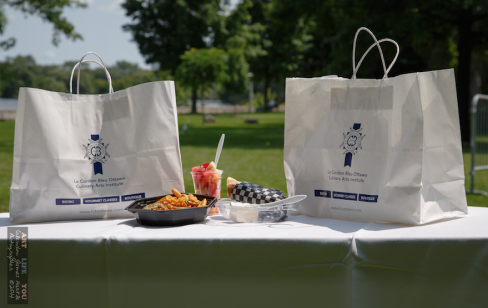 Your picnic includes:
Camebert cheese and baguette
Herb roasted chicken breast, roasted tomato Provençal, seasonal vegetables, and pasta salad
Fruit salad
Macaroon
Water
YOUTH MATINÉE
THE WIND IN THE WILLOWS
BLOWS IN TO STRATHCONA PARK
For our youngest audiences, we are presenting a special treat by Rag and Bone Puppet Theatre, 
The Wind in the Willows
. This show is based on Kenneth Grahame's classic story that inspires children to read, write, value friendship, love nature, and explore the world around them.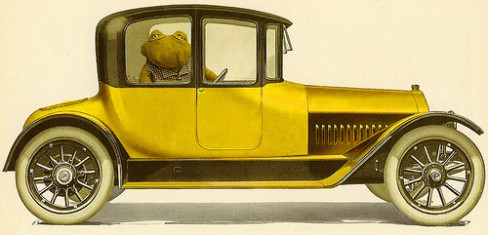 Join us in wonderful adventures on
August 6th
and
13th

at
11 am
and
1 pm
.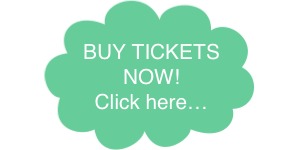 ______________________________________________
Odyssey offers theatregoers a magical experience. Tales of the trials and triumphs of the human spirit are brought to life with masks, pageantry, original music and humour. We create critically hailed Canadian plays and dynamic adaptations from the international repertoire. Join us—and enter a world of laughter, intrigue and enchantment.
Theatre under the Stars summer productions in Ottawa's Strathcona Park appeal to a broad audience. Periodic indoor performances feature edgier themes. Odyssey supports new play creation, artist training and youth programs that draw Canadian and international theatre artists to work with us. Be sure to check those sections for public participation options.
______________________________________________