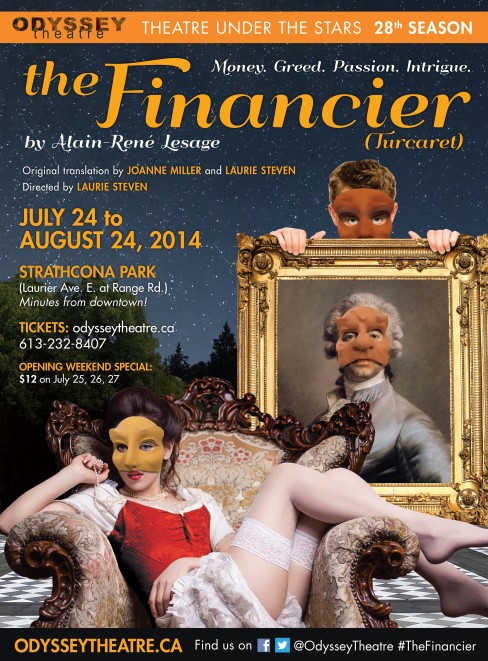 From July 24 to August 24, 2014
Odyssey Theatre presents The Financier (Turcaret), by Alain-René Lesage, original translation by Joanne Miller and Laurie Steven. Directed by Laurie Steven.

Have we got a treat for you!
Our Artistic Director, Laurie Steven, will direct the world premiere of Joanne Miller's and Laurie Steven's adaptation. Joined by an award-winning choreographer, Pierre-Paul Savoie, Laurie will create an innovative production that mixes baroque and contemporary styles of theatre.
This comedic fiasco is about Turcaret, a loan shark and a tax collector, whose sly dealings have come full circle on him. A menagerie of cash-hungry swindlers prey on each other, exposing slaves to passion, excess, and artifice. Only the most single-minded, the most cunning and the most charming will survive.
Don't miss our vibrant combination of physicality, music, dance and luxurious masks that bring this spicy play to life.
Performances will take place in beautiful Strathcona Park on the banks of the Rideau River Tuesdays through Sundays at 8 pm!
Pay-What-You-Can Matinees are on Weekends at 3 pm.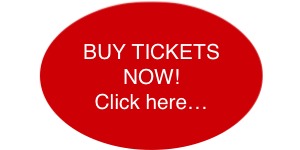 __________________________________________________________
Our plays are noted for their imaginative use of masks, evocative physicality, innovative staging, and for the way they fuse varied art forms and cultures. Plays from the Theatre under the Stars series are performed every summer in Ottawa's historic Strathcona Park, found on the banks of the Rideau River, just five minutes from the downtown core. This charming open-air venue provides a natural setting to spectators from across the national capital region and to tourists seeking a unique entertainment experience.
__________________________________________________________
The Financier (Turcaret)
Laurie Steven  |  Directer 
Andy Massingham |  M. Turcaret
Chandel Gambles |  Baroness
Attila Clemann  |  Knight
Alanna Bale  |   Marine/Lisette
Jesse Buck  | Frontin/Flamand
Mark Huisman  |  Marquis
John Doucet  |  M. Ratsa, M. Vole, Jasmin
Paulette Sinclair  |  Mme. Jacob
Nichola Lawrence  |  Mme. Turcaret