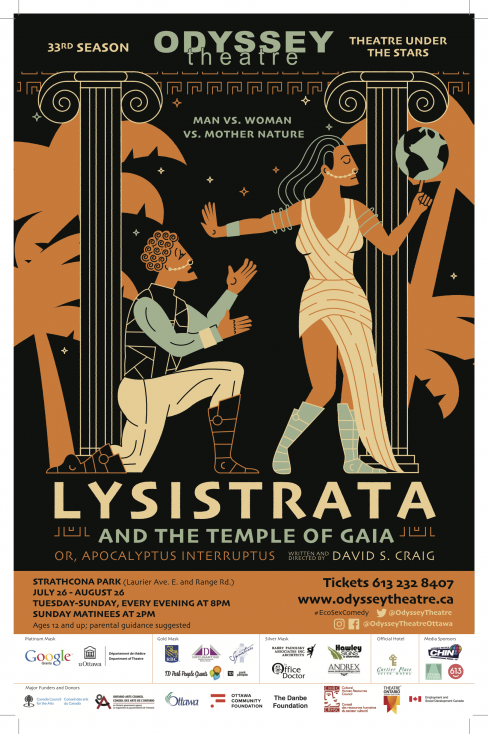 From July 26 through August 26, 2018, don't miss Odyssey Theatre's world premiere of Lysistrata and the Temple of Gaia, a comedy by award-winning playwright David S. Craig. The play is a comedy about an uncertain future, a group of lovers, and a sex strike to save the environment.
Lysistrata and the Temple of Gaia is set in the year 2118, and climate change has made the world inhospitable.
But, for the humans of the future, it's easy to dismiss all of this as "just the weather." Easy, that is, until an ancient goddess named Gaia appears and threatens to destroy all humanity unless they promise to take better care of the planet. The women agree, the men refuse, and a classic battle of the sexes ensues. Thus unfolds the world's first eco-sex comedy.
In Aristophanes' original play, the women of Athens strike in an effort to end a bloody war. In this new play, the women strike in order to convince their partners to put Mother Earth first. With its biting wit, Craig's script is a send-up of our apathy towards the environment, in the light-hearted and zany context of a sex comedy.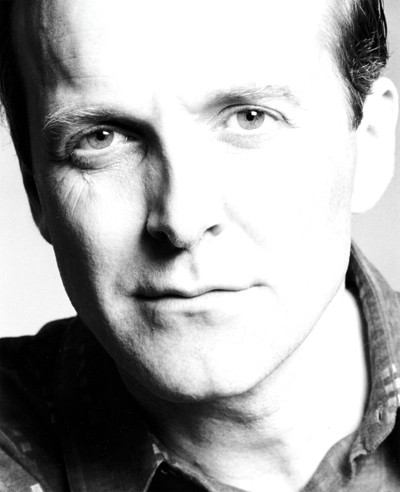 Over a 44-year career, David S. Craig has distinguished himself as an award-winning theatre writer and director. He has directed over thirty plays, written radio dramas for the CBC, and toured extensively across the country. His works have been translated into five languages. This is Craig's second time at the helm of an Odyssey production, his first being 2012's The Fan, for which he won the Prix Rideau Award for Outstanding Adaptation.
He is backed by an incredible design team of Jerrard Smith (Set Design), Lori Hickling (Costume Design), Graham Price (Lighting Design) and Rick Sacks (Sound Design). They will be creating a future world in which Greece's Golden Age never ended. Their design blends an ancient, classical look, with a dramatic concept of future fashion.
Odyssey's productions are known for their fabulous casts, and this year is no different. We welcome Odyssey veterans Sarah Finn (Cassandra), Catriona Leger (H/Gaia), and David Warburton (G). They will be joined by the talents of David daCosta (Theo), Natalia Gracious (Pandora), Martin Julien (Cleon), Lisa Norton (Pietr), and Shelley Simester (Lysistrata).
Join us for our 33rd season in Strathcona Park for Lysistrata and the Temple of Gaia. Performances run from July 26-August 26, 2018, from Tuesday-Sunday at 8pm, with a Sunday matinee at 2pm.
COMPANY BIOS
LAURIE STEVENS – Artistic Director, Principle Dramaturge
Laurie is an award-winning director, playwright, and collaborative creator. Her work is characterized by its imaginative theatricality and sharp choreographic style, enriched with arts including mask, clown, Commedia dell'Arte, bouffon and puppetry. She is an accomplished director of classical and contemporary comedy including contemporary adaptations of works by Molière, Marivaux, Lesage, Tirso de Molina and Goldoni. She has directed fantasies like Gozzi's The Raven, Giraudoux's poetic romance Ondine, Molière's tragi-comedy Don Juan and Lorca's surrealist folktale The Love of Don Perlimplín and Belisa in the Garden. Laurie's original plays include A Guy Named Joe, a social satire on poverty (Gladstone Theatre), the comedy The Art Lesson (National Gallery), and the comic fantasy The Czar's Daughter-in-Law Was a Frog (Odyssey).
Her collaborative works include writing scenarios for and directing the development of Moonlight Mischief for Odyssey, The Audition for the National Arts Center and lunchtime theatre for the National Capital Commission. She has cotranslated and adapted 6 French plays. Laurie is known for her pioneering work collaborating with artists of diverse artistic and cultural backgrounds. Her groundbreaking dance-theatre productions include Turandot and Kamalay, integrating Peking Opera and Indian Kathakali respectively.
She received a Capital Critics Circle Award for Best Director for The Wedding, her adaptation of an Indonesian shadow puppet play for masked performers. Laurie developed Odyssey's New Play Creation program for writers and devisers in physical theatre forms. She is the company's principle dramaturge, has directed more than 25 new play workshops and brought 14 original plays and 13 new adaptations to production. She leads the company's Performance Lab research program and teaches workshops for actors, writers and directors. Laurie recently received a prestigious Chalmers Arts Fellowship awarded by the Ontario Arts Council.
DAVID S. CRAIG – Playwright, Director, Lyricist, Song Choreographer
David S. Craig is an internationally produced, multi-award-winning playwright and theatre artist. He has written 29 professionally produced dramatic works including his hit comedy Having Hope at Home; the internationally acclaimed Danny, King of the Basement, which has been seen by more than half a million people in North America alone; and his adaptation of Michel Ende's The Neverending Story, which premiered at the Seattle Children's Theatre and has had productions all over North America. Other successful plays include Double Trouble (aka The Parent Trap), which was nominated for a Helen Hayes Award; Smokescreen, which has been translated into five languages; his award-winning adaptation of Carlo Goldoni's The Fan; and his one-man show Napalm the Magnificent, which was performed extensively over a 10-year period including an off-off Broadway run at the John Houseman Theatre in Manhattan.
Craig's work has garnered outstanding press notices and has been honored with numerous awards including: The Dora Mavor Moore Award for Outstanding Production (three times), the Chalmers New Play Award (three times), the Rideau Award, The Canada Council Prize, The Writer's Guild Prize for Radio Drama and the Barbara Hamilton Award for Outstanding Contribution to the Arts. Toronto's NOW Magazine named Craig "One of Canada's Top Twenty Playwrights."
DAVID DACOSTA – Theo
David, an Ottawa based actor and singer-songwriter, is thrilled to be performing in his first show with Odyssey Theatre. Audiences may remember him in the role of Mercutio from Bear & Co.'s production last summer of Romeo and Juliet, which toured Ottawa parks throughout July. Not ringing a bell? He also played Paris, Prince, and Apothecary if that helps…It has also been a great privilege for him to have worked with young actors, teaching acting and music with Rag & Bone Theatre's Summer Shakespeare Camp, over the past 2 years. As a singer-songwriter, his music has been featured on Ottawa's Live 88.5, CKCU, and he has composed musical scores for several Ottawa theatre companies, including Third Wall, and Horseshoes & Hand Grenades Theatre. Thanks and love to my family & LO for all the things; and special thanks to MB and the ladies of Mensour. Enjoy the show!
ELEANOR CROWDER – Dramaturge, Artistic Associate
Eleanor Crowder has been making theatre in Ottawa for 40 years. As producer and director, she works with Bear & Co. developing work for area parks and at The Gladstone Theatre. Coming up: This Flight Tonight, the Songs of Joni Mitchell. As writer, her work is known across the country. A World of Stories and Momma's Boy continue to tour extensively. Skin Songs is her newest work, in development with Lola Ryan and Sarah Waisvisz. This August, she performs across Newfoundland in Shakespeare's Will by Vern Thiessen.
SARAH FINN – Cassandra
Sarah is thrilled to be back with Odyssey after making her debut with the company in 2016's A Servant of Two Masters, which won the Rideau Award for Outstanding Production. Some select previous credits include Midsummer's Night Dream (Company of Fools), Hamlet (Driftwood Theatre) and This is War (GCTC). Up next for Sarah, The Drowning Girls at the Great Canadian Theatre Company. Enjoy the show!
NATALIA GRACIOUS – Pandora
Natalia recently received a Dora Mavor Moore nomination for her starring role as Mary Lennox in the Young People's Theatre production of The Secret Garden. Past credits include Anjali in Beneath the Banyan Tree (Theatre Direct), Marcy Park in The 25th Annual…Spelling Bee (The Grand Theatre), Pepper in Annie (YPT), Sister Mary Leo in Nunsense (Harbourfront Theatre) and Felicity in Far From the Heart (Sheatre). Natalia is a graduate of Sheridan Institute's Musical Theatre – Performance program.
CHRISTINE HECKER – Production Assistant
Christine Hecker, originally from Small Town, Saskatchewan, moved to Ottawa in 2009. She holds a diploma in Theatre Arts from Algonquin College and is in her final year of a Bachelor of Music in Vocal Performance at the University of Ottawa. She has found a home in the arts as a stage manager, production manager, lighting designer, technician, pianist, singer, actor, and producer. Opera highlights include the role of Marcellina in Mozart's le nozze di Figaro (UofO); and the chorus in Harry Somers's Louis Riel (COC/NAC). Some of her favourite stage management credits include Beginagame (Passing Through Theatre); Paco V Put to Sleep (Black Sheep Theatre); Hroses (Evolution Theatre); The Walk (Moon Dog Theatre); and Speed the Plow (Plosive Productions). She has enjoyed producing such projects as the Youth Infringement Festival and the Ottawa Stage Manager Battle.
LORI HICKLING – Costume Designer
Ms. Hickling has reunited with her creative collaborator Helen Rainbird to bring you these delightful costumes of future Greece. Lori has worked with David Craig as the costume designer for A Never Ending Story and Having Hope at Home. Lori is a Dora Award winning designer and graduate of the National Theatre School of Canada. She dedicates this work to her family in Toronto for their love and support. Huzzah!
MARTIN JULIEN – Cleon
Martin Julien is an actor, singer, writer, and educator with over three decades of experience in Canadian theatre. He has been nominated for three of Toronto's Dora Mavor Moore Awards as best performer, and recently played Sir John A. Macdonald in Sir John A: Acts of a Gentrified Ojibway Rebellion to open the National Arts Centre's 50th anniversary season in Ottawa. From 1999 to 2013, Martin was an associate artist at the acclaimed Caravan Farm Theatre in Armstrong, B.C., and is thrilled to return to outdoor theatre with Odyssey this summer. Currently, he is a PhD candidate completing his dissertation on acting methodologies at The Centre for Drama, Theatre and Performance Studies in the University of Toronto, where he held a SSHRC Doctoral Fellowship for 2015-2017.
CATRIONA LEGER – H, Gaia
Catriona has worked across Canada as an actor and director for over twenty years. In addition to her work as a freelance theatre artist, Catriona is Artistic Director of a Company of Fools (www.fools.ca), co-Founder of subDevision, and has served on various arts juries and boards. A recipient of the JBC Watkins Award for Theatre from the Canada Council for the Arts and the Sydney J. Risk Award for Directing, Catriona holds a BFA (Acting) and MFA (Directing) from UBC and is a graduate of Ecole Philippe Gaulier (Paris, France). Previously for Odyssey Theatre she appeared in The Little Square and is delighted to be returning this year, taking a break from Shakespeare and delving into the land of Greece. Other rumours, truths and credits can be found via search engine or follow Catriona on Twitter @catrionaleger.
LISA NORTON – Pietr
Lisa is a stage, screen and voice actor whose career has taken her all over the country and on tour through the states. Some favourites include The Model Apartment (Harold Green Jewish Theatre, Toronto); One Man Two Guvnors and The Penelopiad (Citadel Theatre, Edmonton); Of Mice and Men (Theatre Calgary & Canadian Stage Co.), Calendar Girls (Arts Club, Vancouver); Tribes (Segal Centre, Montreal) and The Innocent Eye Test (Royal Manitoba Theatre Centre & Mirvish Productions). She was a member of the Shaw Festival acting company for five years, and premiered new work at The Blyth Festival for three. And, of course, there was her first ever professional gig, Kamalay, here in Strathcona Park with Odyssey twenty years ago! TV appearances include Carter, Bomb Girls, Murdoch Mysteries, Reign, Fringe, Degrassi, Rookie Blue and The JK Rowling Story. Lisa's voice can also be heard in dozens of TV and radio commercials, and in cartoons, including the upcoming CBC Kids show Glowbies.
GRAHAM PRICE – Production Manager, Lighting Designer
This is Graham's 3rd year as Production Manager for Odyssey Theatre. Graham studied drama at Bishop's University and first worked with Odyssey Theatre as the lighting designer for The Mandrake back in 1994. He also worked as the technician in Odyssey's 2003 production of The Illusion, after which he moved to the UK and spent 10 years at the University of Winchester, becoming programme leader for the B.A. theatre production. He returned to Ottawa becoming production manager and facilities director for the Ottawa Little Theatre and continuing his work as a set & lighting designer.
He recently won the Prix Rideau for his lighting, set and projection design for Woyzeck's Head with Third Wall Theatre. Other recent projects include Marat Sade at the University of Ottawa, and God of Carnage, for Ottawa Little Theatre and Spring Awakening for Orpehus. In 2005, three of his lighting designs were shortlisted for the USITT World Stage Design Awards. You can see more of his work at http://grahampricetheatreproduction.blogspot.ca
LOLA RYAN – Choreographer
Lola Ryan: dancer, teacher, poet and writer. England to Ontario to Vancouver to Ottawa – for now. A lifelong love affair with transitions brings her to here, to now, to the glory of growth, to becoming everything she has lived for. After the joy of international athletic competition, walking the airy halls of academe, then the footlights and fanfare of dance and theatre, across the country and abroad, she now moves in new directions, into new worlds.
the time is now the way is forward
dark matter      brilliant           beyond belief
less traveled                 I lift the first foot….
(from Confession 2015)
RICK SACKS – Sound Designer
Rick Sacks composes, conducts the Array Ensemble and performs as a percussionist. Recent works include the music for the world premieres of Adventures of the Smoid, a puppet show written and directed by Mr. Sacks for the Evergreen Club Gamelan, the stage version of The Never Ending Story (Roseneath Theatre) at Toronto's Young People's Theatre and the Skirball Theatre NY. His sound design for Theatre for Young Audiences has resulted in continuous performances throughout Europe and the US. Danny King of the Basement (Roseneath), Caribou Song,(Red Sky), Mistatim (Red Sky). Rick's music, in collaboration with three musicians from Mongolia received a DORA award for Red Sky's Tono. His symphony for the Victoria Symphony utilized remote controlled flying fish and a deep sea diver costume complete with bubbles. He was also nominated in 2018 for his sound design and music for Red Sky's Backbone. Backbone tours worldwide this winter.
LAURIE SHANNON – Stage Manager
Laurie is pleased to be spending her summer under the stars in such great company! Previous theatre credits include Apprentice Stage Manager for A Christmas Carol (NAC English Theatre) and Gracie (Great Canadian Theatre Company; Assistant Stage Manager for The Mouse That Roared (Great Canadian Theatre Company); Stage Manager for Woyzeck's Head (Third Wall Theatre Company); Un-Countried (Theatre 4.669); and Much Ado About Feckin' Pirates, The Elephant Girls (Parry Riposte Productions).
SHELLEY SIMESTER – Lysistrata
Shelley is overjoyed to be in Ottawa for the summer. She's so grateful to the folks at Odyssey Theatre for allowing her to enjoy so much time in her home town! Selected Theatre Credits: "Clairee" Steel Magnolias (Rhubarb Theatre), "Aldonza" Man of La Mancha (The Globe Theatre), "Marie Dressler" Queen Marie and "Jean" The History Of Drinking In Cavan (4th Line Theatre), Evangeline (Charlottetown Festival/Citadel Theatre), "Ruth" Pirates Of Penzance (1000 Islands Playhouse), "Mrs. Lovett" Sweeney Todd and "Deb" Elf (Neptune Theatre), "Magenta" Rocky Horror Picture Show, "Wardrobe" Beauty and the Beast, "The Wicked Witch of the West" The Wizard of Oz (The Citadel Theatre), "Susan" [title of show] (Angelwalk Theatre), "Alma Hix" Music Man (The Stratford Festival). TV/ Film: Reign, Saving Hope.
JERRARD SMITH – Set Designer, Gaia Mask/Headdress
Scenographer and Professor Emeritus, University of Guelph. Since 1980, Jerrard has created set and costume, mask and puppet design for dance and theatre. Jerrard and his wife Diana have closely collaborated with R. Murray Schafer on the works of the Patria Cycle, including RA at the Ontario Science Centre, the Holland Festival and The Alchemical Theatre of Hermes. Trismegistos staged in Liège, Belgium and at Toronto's Union Station. A retrospective exhibition of their Patria work was shown at the Clarington Museum and Design at Riverside in 2012. Jerrard has created masks for Odyssey Theatre's production of The Things We Do for Love and set and masks for The Servant of Two Masters. Other works include set and costume designs for Robert Desrosiers' Corridors, Blue Snake and UltraCity and Debra Brown's Apogée, costume for Walt Disney's World on Ice productions and the creation of a visual spectacle for the New Year's Millennium celebration on Parliament Hill in Ottawa.
His theatre design work for Ann- Marie MacDonald's Nigredo Hotel and for Phyzikal Theatre Company's Flesh and Clay have earned nominations for the Dora Mavor Moore Award. He won the Ontario Arts Council's 1994 Design Jury Award. Jerrard and his wife were among the Canadian exhibitors at the 2007 Prague Quadrennial of Scenography and received "Honourable Scenographer"awards from OISTAT. Jerrard has spent the summers of 2004-2013 working on a research study of theatrical space called Asterion: A Journey Through the Labyrinth.
DAVID WARBURTON – G
This is David's third appearance for Odyssey Theatre. As an actor he has enjoyed a wide and varied career, appearing in London, Edinburgh, Dublin, Moscow and New York. He worked extensively in the U.K. and has toured Canada from Coast to Coast, playing theatres of all shapes and sizes from the Stratford Festival to Churchill, Manitoba. Closer to home, he was a member of The Ensemble at The National Arts Centre. Recently he was part of the Pericles Company for Vancouver's Bard On The Beach, which received 8 Jessie Nominations including Outstanding Production and Significant Artistic Achievement.