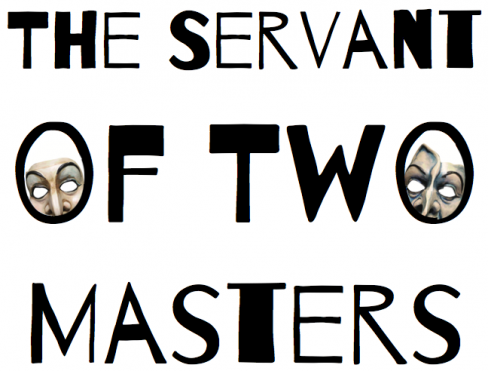 NOW CLOSED
July 21-August 21
8:00 p.m. Evening Shows, Tuesday-Sunday
3:00 p.m. Pay-What-You-Can Matinees, Saturdays and Sundays
Join us in an enchanting outdoor setting for a rollicking farce in which savvy and perpetually hungry servant Truffaldino brews a scheme to double his wages (and his meals) by serving two masters at once.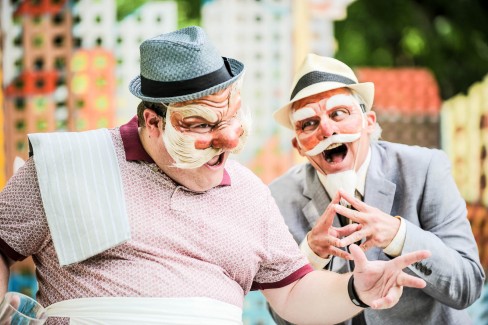 Some may remember that Odyssey produced this play in its very first season. At that time, it launched the career of a young talented actor, Andy Massingham, who played the crafty Truffaldino. Now, an award-winning director, actor and Odyssey veteran, Andy is returning to direct his re-imagined version of the play.
Our exciting design team that includes: Jerrard Smith, our resident mask designer, creating both our masks and set; Vanessa Imeson, an exciting local designer, creating our costumes; Ron Ward, a long-term Odyssey collaborator, illuminating our stage; and Steven Lafond, a vibrant young sound designer and musician, providing our musical backdrop.
We are proud to present an amazing cast of talented performers. Jesse Buck, Cirque de Soleil clown and Odyssey veteran, will play the mischievous servant. He will be joined by actors Zach Council, Sarah Finn and Dana Fradkin, who have previously acted with Odyssey, and newcomers to our stage including Maryse Fernandes, Lynne Griffin, Adam Sanders, Sean Sullivan, and Josh Wiles.
_______________________________________________________________
Behind the Scenes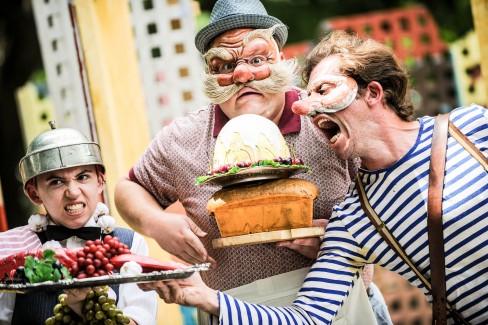 Andy Massingham – Director
Andy's work with Odyssey includes A Curious Mishap, The Fan (Prix Rideau Award), and The Financier. He has directed and adapted The Game of Love and Chance and Arms and the Man (Prix Rideau nom.) He also directed The Farm Show (O.T.S. Prix Rideau nomination), The Squatter Heart (Ottawa/Edmonton Fringe), Em (Playwrights Montreal). For Theatre 4.669 he directed the Bifurcate Me (Prix Rideau award). For Nightswimming he directed Rough House (Dora Mavor Moore award) and a national tour. Credits also include Soulpepper, Tarragon, Young People's Theatre, four seasons at the Stratford Festival, and three seasons at the Banff Centre. Andy is also a passionate theatre educator, having taught across Canada, including, University of Ottawa, St. Lawrence College, Ottawa Theatre School, and The Stratford Festival among many others. He is currently teaching silent comedy with the Second City training centre in Toronto. He is a graduate of George Brown College.
Jerrard Smith  – Set and Mask Designer
Since 1980, Jerrard Smith has created set and costume, mask and puppet design for dance and theatre. Jerrard and his wife Diana have closely collaborated with R. Murray Schafer on the works of the Patria Cycle, including The Princess of the Stars, the Holland Festival and The Alchemical Theatre of Hermes Trismegistos staged in Liège, Belgium and at Toronto's Union Station. Jerrard created masks for Odyssey Theatre's production of The Things We Do for Love in 2015. Other past work includes set and costume designs for Robert Desrosiers' Blue Snake (for the National Ballet) and Corridors and Debra Brown's Apogée, costume design for Walt Disney's World on Ice productions and the creation of a visual spectacle for the New Year's Eve Millennium celebration on Parliament Hill in Ottawa. His theatre design work for Ann-Marie MacDonald's Nigredo Hotel and for Phyzikal Theatre Company's Flesh and Clay have earned him nominations for the Dora Mavor Moore Award. Jerrard and Diana were among the Canadian exhibitors at the 2007 Prague Quadrennial of Scenography and received  "Honourable Scenographer" awards from OISTAT. Until recently, Jerrard taught scenography in the School of English and Theatre Studies at the University of Guelph. 

Ron Ward- Lighting Designer
Ron Ward's association with Odyssey Theatre goes back to "The Mandrake" and, with a few exceptional years, ever since he has enjoyed being the production manager or lighting designer for Ottawa's Theatre under the Stars. Ron Spent 22 years in the dance world working as stage manager and production director for companies such as Contemporary Dancer of Winnipeg, Danny Grossman, the Toronto Dance Theatre, moving to Ottawa in 1989 to work for the (then) Theatre Ballet of Canada, which became Ottawa Ballet. Starting in 1995, he became the technical director/Production Manager for Opera Lyra Ottawa and spent 17 years putting on Opera at the NAC.
Vanessa Imeson – Costume Designer
Vanessa is a Theatre Artist holding a combined BA Honours degree in Dramatic Art and English from the University of Windsor, MFA in Theatre Design from the University of British Columbia and diploma for Makeup Design for Film and Television from Vancouver Film School. Vanessa designs costumes, make-up, wigs and puppets for a variety of professional theatre companies and collegiate programs within Ottawa while simultaneously acting as Head of Wardrobe for the GCTC. She is also a Core Artist and resident Designer with Ottawa's original Shakespeare in the park troupe A Company of Fools.
Steven Lafond- Sound Designer
Steven is a Prix Rideau Award nominated sound designer, composer, and magician currently residing in Toronto. He has been studying the art of sound and music for 20 years and is thrilled to be making his Odyssey debut with The Servant of Two Masters. Some of his select theatre credits include: Romantic Poetry (Blacksheep Theatre), The Norman Conquests (Plosive Productions), End of Civilization (Same Day Theatre), Stuff Happens (NAC English Theatre), This is War and Goodnight Desdemona [Good Morning Juliet] (Great Canadian Theatre Company). Steven would like to thank Andy, the wonderful cast and crew, and his partner for their amazing support and inspiration. Merde!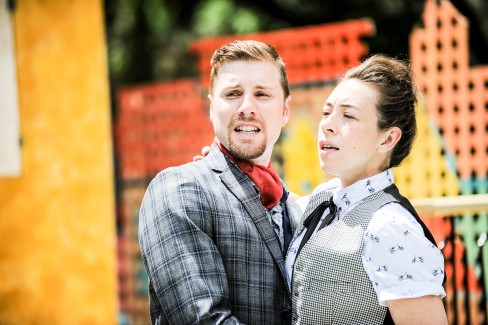 Meet the Cast…
Jesse Buck – Truffaldino
Jesse is very excited to return to Strathcona Park for his fifth appearance with Odyssey Theatre. Jesse has focused his career in the styles of clown, commedia dell'arte, and bouffon. He has created over a dozen original shows, which mostly premiered at Ottawa's Arts Court Theatre. His one man show Bubkus has played around the world including Nanjing, China, St. Petersburg, Russia, and Whitehorse, Canada. Jesse also spent five years on tour as the principle clown in Cirque du Soleil's, Alegria. Presently Jesse works as a voice actor on 9 Story's new cartoon series the Three Amigonauts. Jesse studied in Paris under master teacher Philippe Gaulier.
Zachary Counsil – Brighella
Zach is thrilled to be reunited with Odyssey and Andy, having previously galvanized one another in The Game of Love & Chance and recently Sherlock Holmes and the Curious Case of the Cryptic Compendium (Eddie May Mysteries). Zach is an award-winning artist of many disciplines.  He works as an actor, director, magician, fight director and special FX designer in Ottawa and across Canada. Locally, he is perhaps best known as the "Dymon Storage guy." Recent performance credits include: Romantic Poetry (Black Sheep Theatre), My Favourite Year (Confidential Musical Theatre Project), A Year with Frog & Toad (Rubarb Productions), and Stag and Doe (Upper Canada Playhouse). Other credits include: Goodnight Desdemona, Good Morning Juliet (GCTC), Bell, Book & Candle (Classic Theatre Festival), War of the Worlds / Cyrano De Bergerac (Plosive Productions), The Reality Theatre Project (Odyssey), and Stones in his Pockets / The 39 Steps (Seven Thirty Productions.) Select fight director credits include: Peter Pan, Romeo & Juliet, and The Three Musketeers. Zach received a CCC award for his direction of Walter Learning's Frankenstein (Algonquin Theatre Arts) and wrote, directed, and designed CON-jure, his double act adult magic show. Get in touch with him on Facebook or Twitter. Zach would like to thank everyone on the cast and crew for their work and especially you, the audience. Thanks for coming. Buon Appetito.
Maryse Fernandes – Clarice
Maryse is happy to be joining Odyssey for the first time this summer! An Ottawa native, she is a graduate of the Canterbury High School Drama Program and trained as an actor at the National Theatre School of Canada in Montreal. Past shows include Madness 4:48 (an adaptation of Sarah Kane's 4:48 Psychosis and Shakespeare's Hamlet), What Happened to the Seeker with STO Union at the 2015 Magnetic North Festival, Love's Labour's Lost with Dauntless City Theatre in Toronto, and The Murder Room at the Ottawa Little Theatre this January.
Sarah Finn – Beatrice
Sarah is thrilled to be making her Odyssey Theatre debut along side such an extraordinary team of creators. Some of her past stage credits include: Vanya, Sonia, Masha and Spike (Plosive Productions), Hamlet (Driftwood Theatre), This is War (GCTC), Ethan Claymore (Same Day Theatre) and Skin (DHS/Under Currents). Sarah is a three time Rideau Award nominee for her performances in Shadows (Mutanis), In the Next Room (Same Day Theatre), and Medea (ThirdWall/DHS). Enjoy the show!
Dana Fradkin – Smeraldina
Dana is thrilled to return to Odyssey after playing Felisa/Fenisa in last year's production of The Things We Do For Love. Selected theatre credits include: Acrobat/Clown in La Boheme and Atom Egoyan's Die Walkure (Canadian Opera Company); Arlecchino in Fool's Gold (Metaphysical Theatre); AutoShow (Convergence Theatre); Macbeth and Comedy of Errors (Shakespeare in the Square); Vanishing Currents (Caravan Tallship Company); Tony N' Tina's Wedding (Second City Toronto) and collaborations with Against the Grain Theatre's, Theatre Gargantua, Cirque Sublime, Mysteriously Yours and Circus Orange. Dana is co-founder of Keystone Theatre and co-created and performed in their three successful productions Gold Fever, The Last Man on Earth and The Belle of Winnipeg (Dora Mavor Award musical composition). Festivals as a performer include: Glastonbury Music Festival, Vancouver 2010 Olympics, Calgary Stampede, Antwerp Theatre Festival, Edmonton Folk Festival, Edmonton Street Performing Festival, Nuit Blanche, Luminato, and Toronto BuskerFest.  TV and film performances include; Reign, Fatal Vows, HapHead, Cold Blood, Crimes of Passion, Little Phoenix and the Reign of Fists and her short film Satisfaction, which she wrote, produced, and starred in and will tour with festivals this coming season. Soon she will return to her role as Ronnie McBride in the original immersive theatre creation Hogtown, at the Campbell House.
Lynne Griffin – Doctor Lombardi
Lynne met her husband Sean, (Pantalone), in a production of The Voice of the Prairie 28 years ago. She has spent seasons at both the Shaw and Stratford Festivals as well as many other major theatres across Canada and the US. Her favourite Shakespeare productions are four of Romeo and Juliet, in which she played the nurse. Lynne has been in The Castle, (directed by Dean Gabourie at The Storefront Theatre), Harper Regan, (Canadian Stage), Hamlet, (Theatre Machine), Human Furniture (the Storefront Theatre), and Hedda Gabler (the Storefront Theatre), Vinegar Tom as part of the Playwrights Project, The Seagull with The Chekhov Collective, and The Beauty Queen of Leenane. At the Toronto Fringe, she appeared in The Merry Wives of Windsor, Pornstar, and Brother Andre's Heart, and, at Summerworks', Aftershock. She is the director of the award-winning North American and European productions of Baby Redboots' Revenge starring Sean. On television, she has been in the series Michael: Tuesdays and Thursdays, Happy Town, Riverdale and Wind at my Back, and guest appearances on Lost Girl, Call Me Fitz, Warehouse 13, Murdoch Mysteries, Remedy. She also played Mrs. Santa in two Santa Baby movies for ABC-TV. Her films include the cult hits, Strange Brew, Black Christmas, and Curtains. Lynne and Sean love to work together. Thanks, Andy!
Adam Sanders – Silvio
Adam is delighted to be a part of this production and to have his first taste of Ottawa theatre! Adam is an Edmonton-born actor with professional work credits in Edmonton, Calgary, and now Toronto, having made the move to the 6ix in the summer of 2015. Adam studied musical theater in Edmonton and graduated from Grant Macewan University in 2013. Selected show credits include Into The Woods, Spring Awakening (Grant Macewan) Aladdin (Albera Opera), The Full Monty (Two One Way Tickets to Broadway), Naughty But Nice (Forte Theatre), Urinetown (Front Row Center), As You Like It (The Shakespeare Company), and, most recently, Adam was seen in this summer's Musical Works in Concert, workshopping Misprint and The Yellow Ribbon. Adam's interest in acting stems from his adoration of ontology, philosophy, and other fields of study that are intent on dissecting and presenting, in its many forms and facets, the experience that is being human. Adam's most cherished creative outlet outside of acting is musical production and composition. He hopes you will check out his work on SoundCloud under the alias Skies Minus. Adam sends his humble gratitude to you, and he hopes you enjoy the performance!
Sean Sullivan – Pantalone
This is Sean's debut with Odyssey Theatre and he is THRILLED. Sean's life has revolved around the theatre from birth; his mother was an actress, director of education, and dramaturge at the Tony-Award-winning Old Globe Theatre in San Diego, CA. Sean's professional career began there as well, performing in twelve plays. His favourite roles include: the title character in the award-winning solo play Baby Redboots' Revenge (which was directed by his wife, Lynne Griffin, and toured North America and Central Europe), Norman in The Dresser, and Davey/Leon in The Voice of the Prairie. Sean's recent Toronto productions include: The Castle, The Merry Wives of Windsor, Liver, Out At Sea, A Midsummer Nightmare, Potosi and The Seagull.
Selected film credits are: God and Country, Wayne's World, Back To The Future III, Who's That Girl?, Foolproof, and The Howling VI. Selected TV credits: Damien, Hemlock Grove, Good God, The Associates, (Gemini nominee, series regular), Across The River To Motor City, Poor Tom is Cold, Babylon Five, and Quantum Leap. Sean won the inaugural Masters In Mime Tournament in California, went on to study, and then tour with Richmond Shepard, "America's Foremost Mime". He studied classical theatre in the Professional Training Program at San Francisco A.C.T.
Joshua Wiles – Florindo
Joshua Wiles is a singer/songwriter, musician, and actor based in Toronto, Canada and is very excited to be making his Odyssey debut. Recent credits include: Jason in Ring of Fire (Magnus Theatre), Benedick in Much Ado About Nothing (Rose Theatre), Jamie in The Last 5 Year (Daemon Theatre), Horatio in Hamlet, Sir Andrew in Twelfth Night (Classical Theatre Project), Berger in HAIR! (US National Tour), Terry Fox in Marathon of Hope (Canadian Musical Theatre Project), and Jack in Bremen Rock City (Toronto Fringe).  He has a diploma in acting from Sheridan College and a BA Honours Degree from the University of Toronto.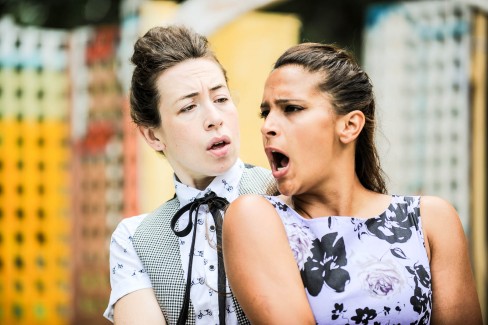 … And Crew
Graham Price – Production Manager
This is Graham's first year as Production Manager for Odyssey Theatre. Graham studied drama at Bishop's University. He first worked with Odyssey Theatre as the lighting designer for The Mandrake back in 1994. He has also worked as the Odyssey technician the 2003 production of The Illusion. In 2003, Graham moved to the UK where he spent 10 years at the University of Winchester becoming programme leader for the B.A. theatre production. He returned to Ottawa in 2013 to become production manager and facilities director for the Ottawa Little Theatre and continue his work as a set and lighting designer. He recently designed for Woyzeck's Head for Third Wall Theatre, Marat Sade at the University of Ottawa, and God of Carnage for Ottawa Little Theatre. In 2005, three of his lighting designs were shortlisted for the USITT World Stage Design Awards. You can see more of his work at http://grahampricetheatreproduction.blogspot.ca. Graham would like to thank the staff and volunteers of Odyssey Theatre (past and present) and that of Ottawa Little Theatre for their support in this first year as PM.
Alexandra Maisonneuve – Stage Manager
Alexandra is very exited to be tackling the challenges and reaping the rewards of an outdoor theatre for the first time with Odyssey Theatre this summer. A recent graduate from Concordia University's Theatre and Development Program, Alexandra has taken on many roles in their main stage productions. In her final years at Concordia,Alexandra stage managed the show Alice, as well as 60×60, and was the assistant stage manager for The Saints Plays. In the summer of 2015, Alexandra participated in an exchange between Concordia University and the Friedrich-Alexander-Universität in Erlangen, Germany, which expanded her views on what theatre had to offer. As part of the exchange, Alexandra collaborated with 10 other people to create the show White Noise, which was performed at Concordia's SIPA Festival 2015. She would like to thank her director, Andy, for reaching out about Odyssey Theatre this summer, as well as Jen Strahl at Concordia for her never-ending support.
Claire McCracken – Assistant Stage Manager and Assistant Production Manager
After completing a directing and front of house apprenticeship with Odyssey Theatre in 2014, Claire discovered her love of theatre, and it has been growing ever since. In her last year of high school, Claire directed the show Take Five and was the stage manager for The Laramie Project (nominated for a Canada's Capital Cappies Award in the categories Stage Crew,Special Effects and Technology, and Best Play). She has just completed her first year of theatre at the University of Ottawa and is looking forward to returning in the fall. Earlier this year, she was the stage manager for the show Misery at the Youth Infringement Festival, which earned second best at the festival. She is overjoyed to be returning to work with Odyssey Theatre this summer and would like to thank her family and friends for being endlessly supportive of her passion for theatre.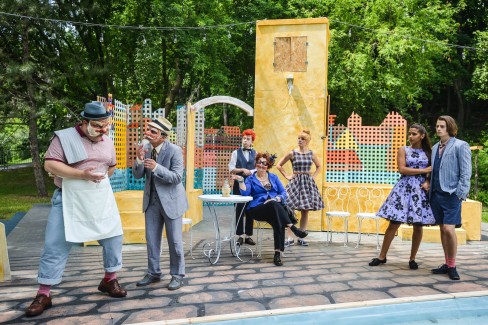 _______________________________________________________________
Our plays are noted for imaginative use of masks,  evocative physicality, fusion of art forms and cultures, and innovative staging. Offered every summer in Ottawa's historic Strathcona Park on the banks of the Rideau River, five minutes from downtown, our open-air theatre provides a charming natural setting that attracts a broad audience from across the national capital region and tourists seeking unique entertainment.