Our plays are noted for imaginative use of masks,  evocative physicality, fusion of art forms and cultures, and innovative staging. Offered every summer in Ottawa's historic Strathcona Park on the banks of the Rideau River, five minutes from downtown, our open-air theatre provides a charming natural setting that attracts a broad audience from across the national capital region and tourists seeking unique entertainment.
Stay tuned for the announcement of our 31st season!
---
In the summer of 2015, we celebrated our milestone
30th anniversary season
with
The Things We Do For Love
, an evening of three Spanish one-act plays that celebrated the passion and pursuit of love!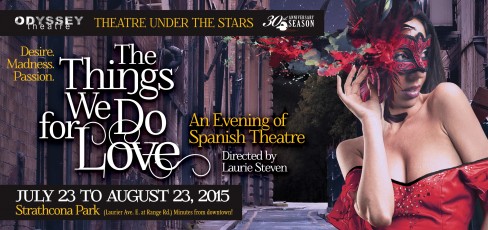 Featuring original compositions, puppet artistry and Odyssey's signature mask work, classic tales from Spain's great literary figures (Cervantes, García Lorca and Tirso) came to life under the direction of Odyssey's award-winning artistic director Laurie Steven, joined by nine professional Canadian actors: William Beddoe, Dana Fradkin, Chandel Gambles, Mark Huisman, Karen Knox, Matthew Lawrence, Scott McCulloch, John Nolan and Alan K. Sapp.

LISTEN Artistic Director Laurie Steven talks about 30 Years of Odyssey in a recent interview on CBC Radio with host/producer Giacomo Panico from In Town and Out!
PRODUCTION REVIEWS:
"…Weaving stories of amorous pursuits, adventure, sacrifice and a load of physical comedy, to boot … The Things We Do For Love made for a wonderful and highly varied evening of thespian pursuits." Apartment613
"Feel the love with Odyssey Theatre … the acting in all three plays is great and serves as further proof that Odyssey productions never disappoint. The masks make a fascinating addition to the productions and bring out a particular acting talent." Ottawa Life Magazine