YOUTH APPRENTICESHIP PROGRAM

Do you have a love for the stage? Considering a career in professional theatre? Odyssey's Youth Apprenticeship Program provides a creative outlet to grow and expand your artistic interests.
During your apprenticeship, you'll learn from professionals in the theatre industry. From performance to arts administration and marketing, the experts at Odyssey are here to train and mentor you. The program runs from the beginning of July to the end of August.
All apprenticeships take place downtown at Strathcona Park and/or Arts Court, 2 Daly Avenue.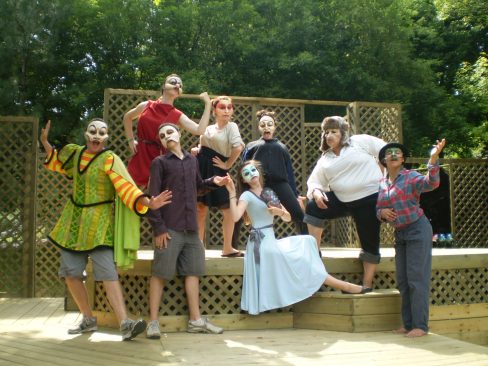 BECOMING AN APPRENTICE

Joining the program is easy! Fill out and submit an application form by May 7th. In June, you will be invited to an interview/audition. Successful candidates will join us in the summer.
MENTORSHIP AND TRAINING
We offer hands-on experience from workshops in mask work, acting, and technical, to a career development seminar. Odyssey's theatre professionals—actors, technicians, administrators, and directors—act as mentors throughout the program.
AREAS OF SPECIALIZATION
Choose from one of five areas of specialization to focus on while working with Odyssey. A company member is assigned to each specialization and mentors apprentices for the summer.
PERFORMANCE:Playwright and Director David S. Craig mentors youth apprentices who will participate directly in the rehearsal process and gain stage experience through scene changes and minor roles in our production.
STAGE MANAGEMENT:Stage manager Laurie Shannon mentors youth apprentices who will care for masks, props, and wardrobe, assist with daily set up and strike and help with quick changes during the performance period.
TECHNICAL DESIGN:Production manager Graham Price mentors youth apprentices who assists with sets, costumes, lighting and sound.
ARTS ADMINISTRATION AND MARKETING: General Manager John Forster mentors an apprentice who will partake in fundraising, marketing, event management, and arts administration.
FRONT OF HOUSE:Front of house manager Kate Carmanico mentors youth apprentices who will participate in activities revolving around customer service and audience care.
WORKSHOPS:
All apprentices participate in formal training through intensive workshops.
ORIENTATION: An introduction to the company, programs, mandate and staff, and more broadly, to the ways that many theatres are organized and developed.
ACTING WORKSHOPS:Students learn improvisation, physical theatre games, mask performance, and Commedia techniques. Youth apprentices use Odyssey's signature masks to collaboratively create contemporary scenes, on a theme of their choosing, inspired by their work. 
"The acting workshop was a big highlight. We had so much fun together. Learning mask work, Commedia characters, stage combat and clown really boost our confidence. Performing in front of the company at the end of the workshop was a great experience." – Katrine M.
PRODUCTION WORKSHOPS:An introduction to the areas of production and design. Students learn specific skills in stage management, costume and prop building and maintenance, scenic painting, and onsite safety. They also learn to make a prompt book, take production notes, organize a backstage area, do quick costume changes and use basic tools.
"This workshop opened my eyes to what stage management really is and how hard the profession is, yet how exciting and fun it can be at the same time. The workshop was informative, exciting and fun, with tons of advice, hands on activities and chances to ask questions." – Madison H-C
DIRECTING WORKSHOP:Students learn about what it means to have a directing concept that encompasses how they approach discussion with actors and designers, as well as staging. They prepare an introduction for a play they might like to direct and are coached on how to develop it. They also learn how to conduct auditions, plan rehearsals, and the director's role in the design process.
ARTS ADMINISTRATION:Apprentices are introduced to the areas of marketing, fundraising, event management, and administrative responsibilities required in managing a theatre company.
CAREER SEMINAR:This session gives students an opportunity to ask theatre professionals questions about their education, career paths and work within and beyond Odyssey. The director, artistic director, stage manager, production manager, general manager, actors and designers facilitate the seminar. This workshop helps apprentices understand the challenges and possibilities of a career in theatre and provides the beginning of a network of contacts they can approach for advice in the future.
"The most interesting thing was that some actors started out doing exactly what I was doing and that there are always opportunities for auditions, workshops and volunteering with theatres. It's all about finding out when and where. And that there is no shame in calling up places and asking questions."  Phoebe W.
HONORARIUM
As a reward and thanks for all your hard work, you'll receive an honorarium up to $400 at the end of the summer based on your commitment to the apprenticeship.
DEADLINE FOR APPLICATIONS: MAY 15, 2018
Please download and complete the application form and submit along with a copy of your resume and two (2) references to office@odysseytheatre.ca
or mail your application to
Odyssey Theatre
2 Daly Avenue, 
Ottawa, ON 
K1N 6E2