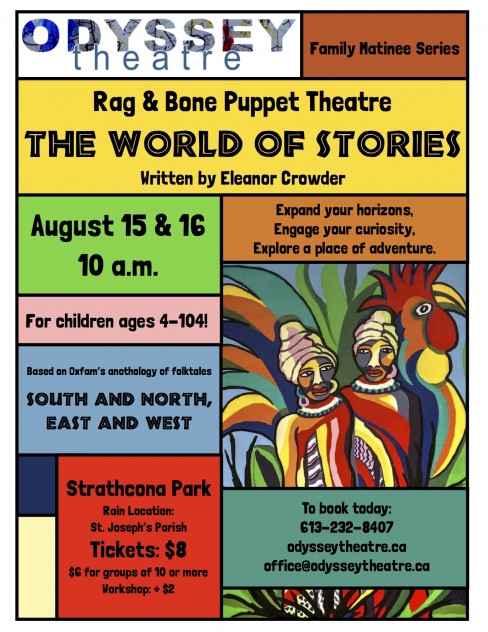 Discover, learn and grow with Odyssey Theatre's Family Matinees. Every summer Odyssey Theatre offers unique, fun and empowering live theatre performances aimed at ages 4 to 12.  However these shows are affordable and fun for the whole family – for children 4 to 104.

Expand your horizons and join us for Rag and Bone's The World of Stories! Through puppetry, mask, dance, song, and mime, this play introduces children to the folktales of cultures from all over the globe. Based on Oxfam's anthology of folktales, South and North, East and West, The World of Stories sparks children's imaginations and encourages a love of theatre long after the show is over! Don't miss this engaging and enriching experience!
Location
August 15th and 16th at 10 am, we will be holding shows in the beautiful Strathcona Park.
Performances are guaranteed! Our rain venue is the stunning St. Joseph's Parish on Laurier Avenue East.
Tickets
$8 – or $6 for groups of 10 or more.  Tickets can be purchased from the Odyssey Theatre Office at the Arts Court, 2 Daly Avenue, by calling 613.232.8407, in person at the park before the show, or online.

For further information regarding tickets, group rates, and pricing for the puppet workshop, please email or call: office@odysseytheatre.ca 613-232-8407
Reasons to Go! 
Live theatre offers the opportunity to enrich the lives of youth by teaching lessons outside of the classroom. These lessons are often inspiring and powerful, capturing the imaginations of children at an early age. Our Family Matinees are indented to spark a passion for the arts in young children, encouraging them to ask questions and open their imaginations; we want to expose them to the worlds of fantasy, fairy tale, and adventure, all while presenting them with stories that teach valuable morals and themes.
Fostering Creativity
Odyssey Theatre is well known for its work in physical theatre and mask – brands of theatre that are excellent for young audiences keeping them engaged with great physical comedy and visually engaging presentations. This year, we want to take audience engagement one step further by inviting our young audiences to participate in a puppeteering activity following each performance.