August 7th, 2012 /
2 Comments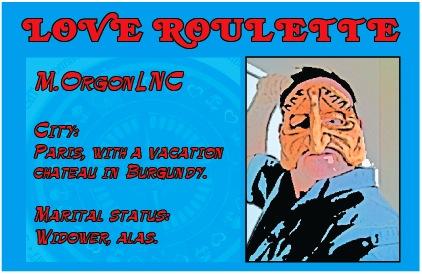 About/You are…
A Great Pyrenees in my last lifetime, now a romantic French Basset Hound. Caring, athletic (or used to be LOL), comical, listener, cries at the Kinetoscope displays.

Your life experiences/Details
Fought bravely in the Franco-Prussian War. Vulcanized-Rubber jumped jumped from high above the Hautes-Alpes river in Serre-Chevalier back in the nifty-nineties! Wow!
Intent
I am an aristocratic box of truffles waiting to be devoured!
Education
PhD in Metallurgy from the Sorbonne.
I am seeking a…
Civilized lady who is happy with herself, trustworthy, honest and affectionate. Not too moderne! LOL!
Profession
One of France's foremost thinkers on business and society.
What are you looking for in a relationship?
Looking for an eventual long term relationship in a partnership built on trust, open communication, and arranged marriage. Must like grown mischievous children who still live at home.
What do you do for fun?
I enjoy many private diversions – though many of you ladies may find me a bit mid-century! Help me out here, will you?! LOL!
Do you believe in love at first sight?
Just ask Juliet and Romeo!
How do you spend your spare time?
Metallurgy experimentation, topiary, and attending the Kinetoscope display on Saturday nights with my children. Sunday mornings in bed with Le Monde and some hot out of the oven beignets from my cook Marthe!
First kiss…
Do not approach the kiss as though it is a business transaction! Believe you me! LOL!