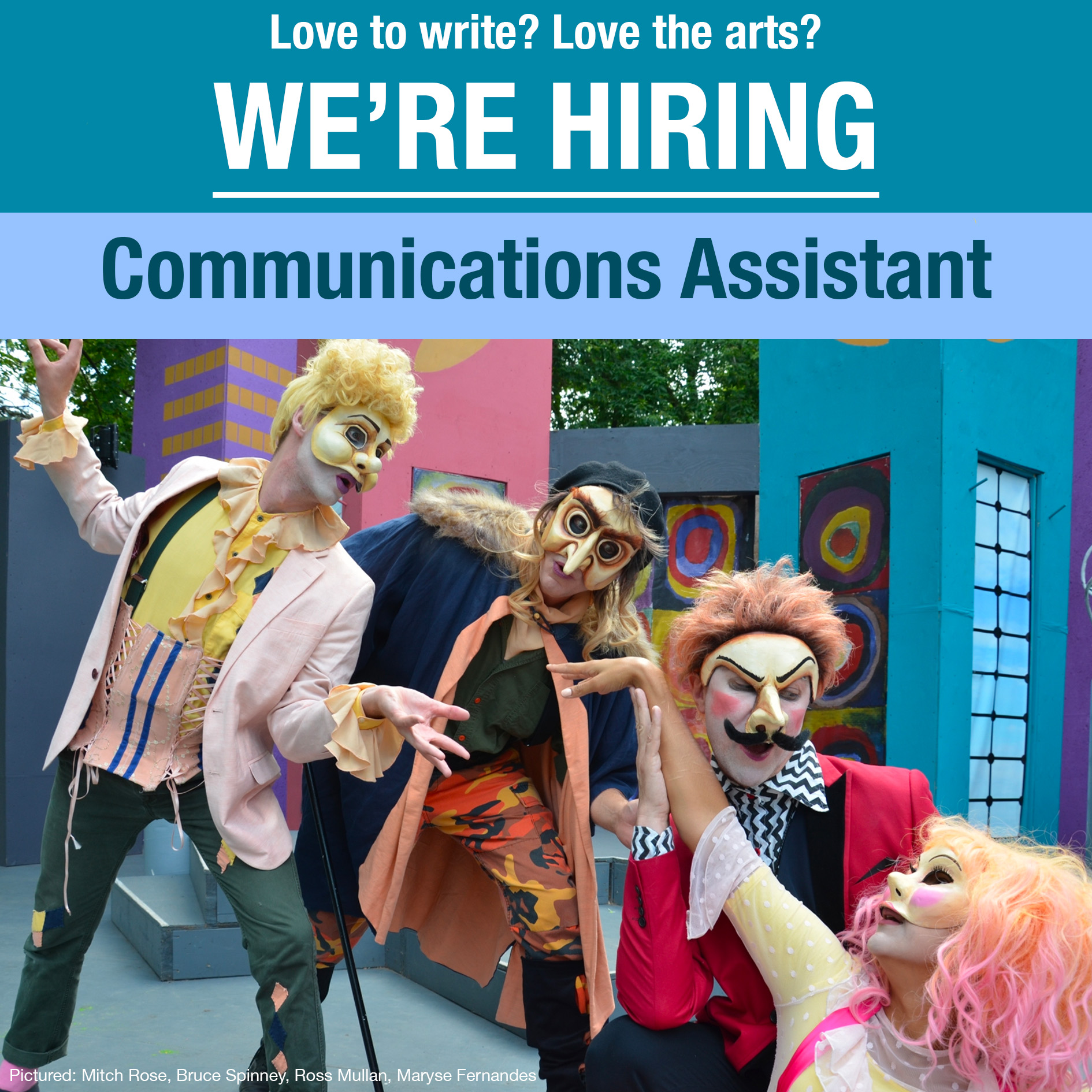 Join Odyssey Theatre for its 37th (online) season as Ottawa's premier professional summer theatre as a Communications Assistant. Do you have an interest in the arts? Do you have a passion for strong writing?
We are looking for a dedicated, creative, and enthusiastic person who is an excellent writer to help bring Odyssey's digital and live performances and workshops to audiences across Canada. You will join a creative and collaborative team and gain experience with an award-winning professional theatre.
Here at Odyssey Theatre, Ottawa's award-winning mask and movement-based theatre, we blend classic and contemporary art forms and incorporate diverse cultures and traditions from around the world. This season, we are excited to launch an original fantasy audio-drama series – The Other Path Podcast. We are also staging online workshops for youth and supporting the creation of new Canadian works through our live new play workshops.
We are now hiring a Communications Assistant. The successful candidate is between the ages of 18-30. You are a strong writer – someone who can capture and present the imagination of Odyssey's work in the written word. You will help promote our podcast and other performances and workshops by researching, writing, and editing of promotional materials, as well helping with exciting digital marketing and social media campaigns. The successful candidate will be able to work remotely online for the present time.
Dates: June – August 2022 (flexible).

Salary: $525/week (35 hours/wk)

Duration: 8 weeks

Location: Working remotely online
Deadline: Applications will be considered on an ongoing basis until the position is filled.
The successful candidate will support exciting theatre by:
Writing and editing copy for marketing and information materials, our web site, and for proposals and emails
Conducting online research and analysis
Developing written and visual creative materials (including video) for social media
Preparing and monitoring online ads
Conducting marketing research and analytics
Contacting community groups to create partnerships
Other related duties as needed
The successful candidate must have:
Excellent writing skills (English) and a passion for writing
Experience or courses in Theatre, English, Creative Writing, Marketing, Communications, or similar
Strong organizational skills and attention to detail
Experience working with social media, web sites and various digital platforms
Experience in video editing and graphic design
Ability to show initiative and to work independently
Ability to work collaboratively
Odyssey Theatre is an equal-opportunity employer, committed to reflecting our city and country's diversity. We welcome and encourage persons of all cultural backgrounds, disabilities, gender identities or expressions, religions and sexual orientations to apply.
Please submit a cover letter, resume, two samples of your great writing, and three references (applications will be considered as they are submitted) to:
John Forster, General Manager
By e-mail: info@odysseytheatre.ca
For more information, visit our website at www.odysseytheatre.ca