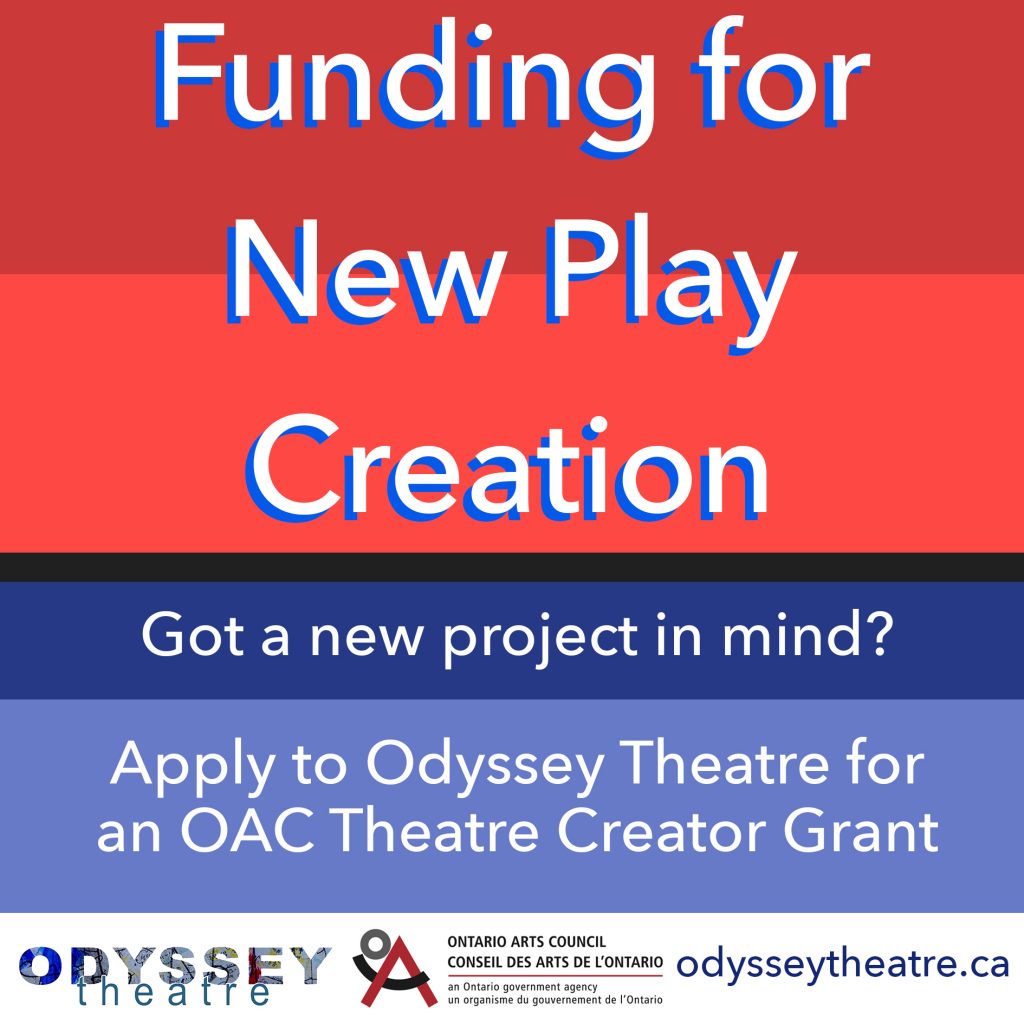 Deadline for the OAC Recommender Grant has been extended to January 14th, 2022 @1:00pm!
Through the Ontario Arts Council's (OAC) Recommender Grants for Theatre Creators, Odyssey supports Ontario artists to create new work. We make recommendations to the OAC for grants between $1000-$3000 for new play creation. We support writers and collaborative creators working in the field of physical theatre arts.
We welcome applications from professional writers, collectives and collaborative creators of all races, cultural backgrounds; abilities; gender identities or expressions; religions; and sexual orientations. We encourage applications from artists working with diverse theatre forms.
What are we looking for?
Odyssey gives priority to innovative projects that incorporate one or more of the following:
A discipline related to physical theatre, including mask, Commedia dell'Arte, clown, bouffon, puppetry, circus arts, and dance-theatre;
Theatre forms from diverse cultural traditions;
Artists who have established skills in above areas.
Who is eligible?
Grant recipients must be a Canadian citizen or permanent resident, an Ontario resident, and a professional artist. Collectives and groups composed of a majority of Ontario residents may also apply. For more information on program eligibility, please visit the Guide to OAC Project Programs.
Who and what are not eligible?
Theatre organizations that receive operating funding from the Ontario Arts Council;
The creation of non-theatre work;
Productions costs, equipment costs, or workshop costs (unless the intent of the workshop is creation);
Works that have been completed prior to being notified by the OAC.
How much can I apply for?
Applicants can request between $1,000 and $3,000; Odyssey generally recommends amounts of $1,000.
How to apply:
Applications must be completed and submitted through NOVA, Ontario Arts Council's online grant application system. For more information on how to submit an application, visit the OAC's website.
Please ensure that your application includes the following:
Basic information about your project;
Your answers to the application questions;
The name of the recommender you are applying to (Odyssey Theatre);
A script sample (if the work is devised or non-verbal, please include a synopsis and a detailed description of your planned creation process);
Support documents, including C.V.'s of all lead creators.
Applications open September 15th 2021 and the deadline to submit is January 14th, 2022 by 1pm.
Please feel free to contact the theatre with questions or to discuss your project. You can email us at office@odysseytheatre.ca.