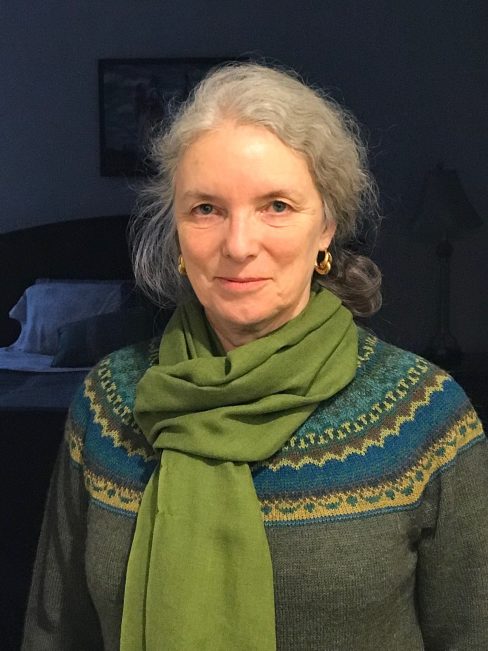 Crowder, the founder of Bear and Co, has spent decades creating and teaching theatre
Matteo Cimellaro
When studying under a great teacher a whole universe can open through their knowledge, lessons, and passion. Eleanor Crowder, Odyssey's lead instructor for our 2021 Youth Apprenticeship Program and Ottawa-based theatre artist, is just that kind of teacher.
Crowder brings decades of study and theatre creation to Odyssey's apprentices. Her 12 workshops will introduce apprentices to the rigour and discipline required for a professional theatre career.
With Crowder, that discipline is an energetic approach, not at all oppressive. She is a populist looking for our shared joy in performing the classics. She believes artists bring themselves to the work no matter how old the script. She says memorising is hard work, but the release is in playing with the text and actions that is fresh for our reality now.
Ultimately, her approach to theatre is about the play and experimentation in rehearsals. It's about the confidence gained through those rehearsals and the embodiment of that confidence on stage.
Odyssey Theatre spoke to Eleanor about her career, how she approaches theatre creation, and her advice to the artist as a young person.
This interview has been edited for concision and clarity.
---
Matteo Cimellaro: Can you give us a brief history of your career in both teaching and Theatre?
Eleanor Crowder: I had started as a research scientist but I don't like staying still for too long without moving. I ended up in English literature, but by the end of my second year I was a theatre major because the ensemble creation you [did at my university] was the most exciting thing.
I had done Theatre all along but I had a family that was very sure I wasn't going to be an actor. They remained I was very sure I wasn't going to become an actor until I was over 40.
They've finally become relatively proud of the fact that I'm not bad and I do things quite well partly because my Grandfather, who I never knew, was a complete performer. He made his working life as an accountant while he was an opera singer, an actor, a director, and a filmmaker. So the pattern that you do something as your bread and butter and you do theatre for your own joy is well set into [my] family. So for my joy, I had to make Theatre my bread and butter.
M.C: What's the most rewarding thing about working in theatre?
E.C: For me, the most joyous part is actually being in a studio and creating the work. There's satisfaction in you writing stuff and have people interpreting it, but it's nothing like being in the space while people try stuff out and change it. Rehearsal for me is the most joyous bit. I like performances very much, but I really really really enjoy rehearsal. It's a precious part of the process.
M.C: Tell me about starting your own theatre company and the sort of DIY [do it yourself] attitude you needed beginning your company Bear and Co.
E.C: There are a lot of ways to fund theatre through grants and ticket sales, and they vary all the time. One thing when you work in theatre professionally you figure out the ways to fund this work now. You're lucky if you know what you want to do. You make an event and people come to your event because they know it's going to be exciting. I've known I wanted to do that since I was 16, so it's been a straightforward question: how do I make that happen for me? […] I would rather explore and find out how to fund theatre locally because I believe your culture is very reflective in place.
M.C: Any advice to the young theatre artist?
E.C: Ask questions. Ask lots of questions because there is no pattern that is true across the country. There's not a way to do "it". Ask people around you right now in the place you're in because we're a huge country with multiple access points in every city. So don't take no for an answer. Ask people around you how you might be able to play with them.
The application to Odyssey Theatre's Youth Apprenticeship Program is closing soon. Visit http://www.odysseytheatre.ca/index.php/youth-programs/youth-apprenticeship-program-online/ to apply now.
---
Eleanor Crowder is an actor, a director and a playwright. Her focus on physical theatre and international languages of gesture began with training in mime, and projects in The Sudan and Ghana. In Ottawa over four decades, she founded and led Hexexpress, a bilingual company; Outaouais Popular Theatre/ OPT, Theatre in Action; Salamander Theatre for Young Audiences, its Shakespeare Camp and Young Company; and since 2012, Bear & Co.
Her work has toured across Canada. She enjoys found spaces and outdoor sites, fire dancers, and sword fights. Recent creations include Echo, in Bonnechere caves, and Fire and Water in the Ottawa river. When we can be in theatres, she directs at The Gladstone (Nell Gwynn, for Three Sisters earned a Best Director nomination from the Rideau Awards) and builds large community arts projects (for example the three year sequence of Overbrook The Musical, Overbrook Diary, and Starry Nights). She delights in working with Odyssey's innovative exploration of modern commedia.
Matteo Cimellaro is a journalist and writer. He is currently Odyssey Theatre's Arts Management Intern.