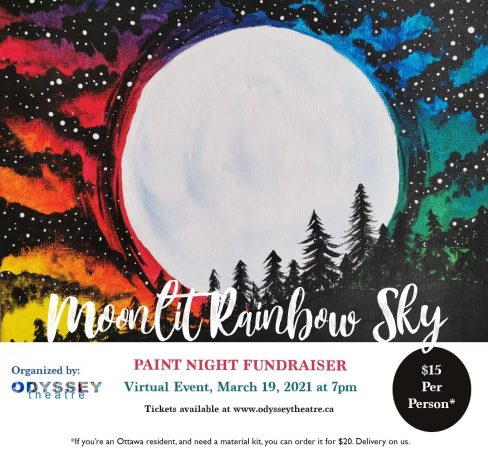 Friday, March 19th @ 7pm
Tickets- $15 (Optional- material kits are available for an additional $20)
Join us from the comfort of your own home for a night of fun and creativity to help raise money for the arts! Odyssey Theatre is hosting a virtual paint party fundraiser; follow along with our artist to create your own rendition of the painting, Moonlit Rainbow Sky.
No painting or artistic experience required – seriously, you can do this!
Appropriate for ages 19+
A supply list will be sent to participants or you can buy a material kit from us and we will deliver it to you before the event. Material kits will be available to Ottawa residents only.
FAQ:
Q: Do I need to have all of the supplies?
A: No. If you wish to source your own supplies, a materials list will be emailed to you prior to the event. Materials are widely available at craft stores, art supply stores, dollar stores. If you're in Ottawa and want to buy local, check out Wallack' Art Supplies! If you want us to get the materials for you, just purchase the materials kit and we will deliver it to you (Ottawa residents only).
Q: Do I need to be able to paint or draw?
A: No. Our host will walk you through the painting step by step. She promises to keep it simple and will help you and answer questions along the way.
Q: Do I need to be in Ottawa, ON?
A: Not at all, the beauty of this virtual event is that you can attend from anywhere! All you will need is access to a good internet connection and a place where you can purchase your materials.
Q: What is the vibe of the event?
A: SUPER FUN! Art class this is not – we will have music playing, trivia questions, prizes, beverages flowing, and of course painting. This is why it's called a paint party!
Still have questions? Email us at odysseytheatreevents@gmail.com
Hosted by Jesse Kahat, a top-rated paint party artist and host with over 100 paint parties taught!