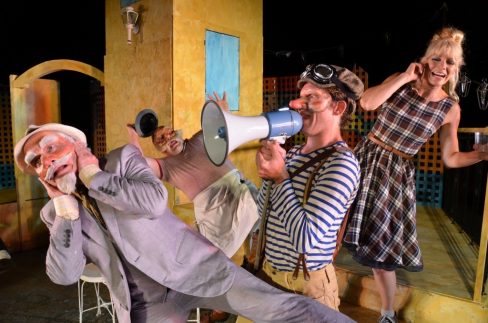 Laurie Steven, Artistic Director of Odyssey Theatre, is pleased to announce that Odyssey's 2016 production of The Servant of Two Masters was recently recognized at Ottawa's Prix Rideau Awards.
The hit production received awards for Outstanding Production, Outstanding Direction by Andy Massingham and Outstanding Female Performance by Dana Fradkin, as well as nominations for Outstanding Male Performance by Jesse Buck, Outstanding Female Performance by Sarah Finn and Outstanding Design by Jerrard Smith for his set and mask designs.
The Rideau Awards crowned a critically acclaimed 31st season and come on top of two Capital Critics Awards, previously announced this year—Andy Massingham for Best Director and Jesse Buck for Best Actor.
Odyssey would like to thank director Andy Massingham, whose creative vision and new adaptation of Goldoni's Commedia classic brought audiences to their feet.
We also thank our incredibly talented cast, Jesse Buck, Sean Sullivan, Lynne Griffin, Dana Fradkin, Maryse Fernandes, Adam Sanders, Zach Council, Sara Finn and Joshua Wiles, who lit up the stage night after night and provided our audiences with an unforgettable evening of physical comedy, intricate movement and brilliant masked performances.
Many thanks to our amazing creative team of artists and designers, whose work brought the comedic world of Servant from the page to the stage—Laurie Steven (Dramaturge), Jerrard Smith (Set & Mask Designer), Vanessa Imeson (Costume Designer), Steven Lafond (Sound Designer), Ron Ward (Lighting Designer) and Alexandra Maisonneuve (Stage Manager).
Of course, the success of our production would not have been possible without the dedication and hard work of our excellent production and administration team and our superb apprentices.
Thank you to all who supported our 2016 Theatre Under The Stars production!